Case Study - iPhone Signature for National Foodservice Distributor
Customer
US Foods® is a leading American foodservice distributor, partnering with approximately 250,000 restaurants and foodservice operators to help their businesses succeed. With nearly 25,000 employees and more than 60 locations, they provide a broad and innovative food offering along with a comprehensive suite of e-commerce, technology and business solutions.
They also operate 14 processing facilities - these include 12 Stock Yards® facilities that provide high-quality center of plate, custom cut and packaged to customer specifications; Freshway Foods, a fruit and vegetable processor, re-packer and distributor; and Save On Seafood, a seafood processor and distributor.
Requirement - Extend an Existing Email Signature Program to iPhones
A Content Management Specialist from US Foods® reached out to us, stating the following:
Where we currently stand:
USF IT has rolled out a signature tool for desktops;
associates can run the tool on their desktops and get the new email signature in Outlook;
our tool is designed for PC desktops, and associates with Macs have instructions to update their signatures manually.
What we need (Quickly):
A tool that associates can use to update email signature on their mobile devices;
need 3 addresses/locations, and an "other" category where associates can manually enter their address - We have 60+ locations, but, we have 3 main locations we'd like to give the option of the address pre-populating, for the other 60+ locations, users should be able to select "other" and type in their own location.
Project Limitation
We informed US Foods that their requirement to update the email signature on their mobile devices was not fully feasible, as Android devices do not support the installation of HTML signatures.
Signature Design
US Foods provided us with this signature design to replicate for installation onto iPhones: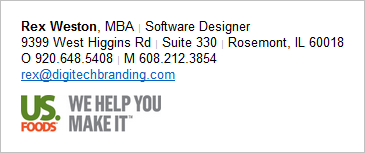 Proposed Solution
An email signature program driven by user-entered data coupled with our iOS mobile app.
Project Execution
Because of the simplicity of the email signature's content, and the need to pre-populate only 3 locations (and "other"), the development of the US Foods program was very simple and quick.
We provided a co-branded portal that offered 5 items in a drop down menu: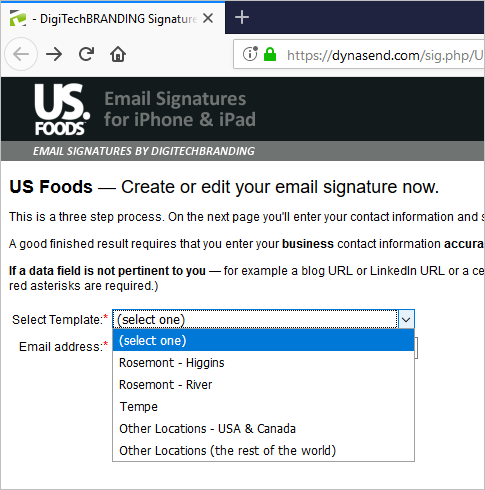 When one of the 3 pre-populated templates is selected, the address information is automatically added to the signature for the user, with the data entry form not prompting for any address information: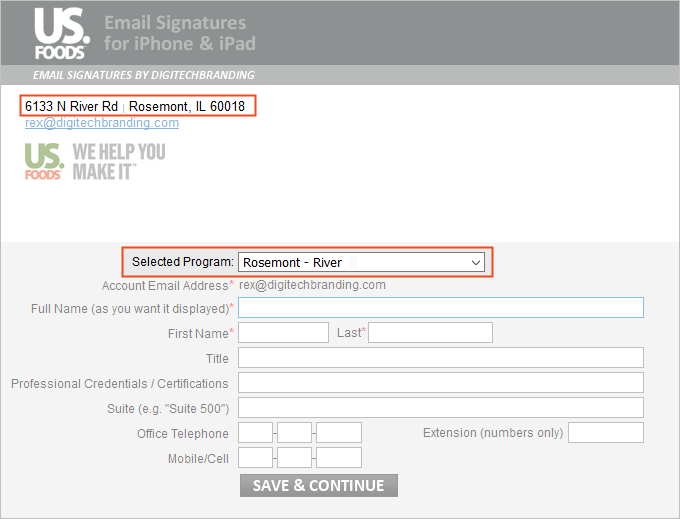 However, if one of the "Other" templates is selected, the data entry form does prompt the user to enter their address information: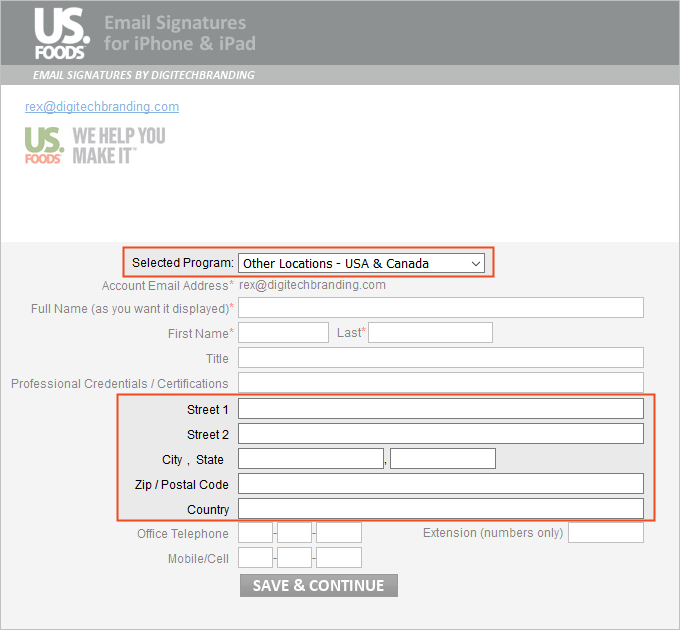 Finally, because this was an iOS signature only, we connected the "SAVE & CONTINUE" button on the data entry form directly to the installation instructions for iPhone / iPad, beginning with the free download of our iOS mobile app: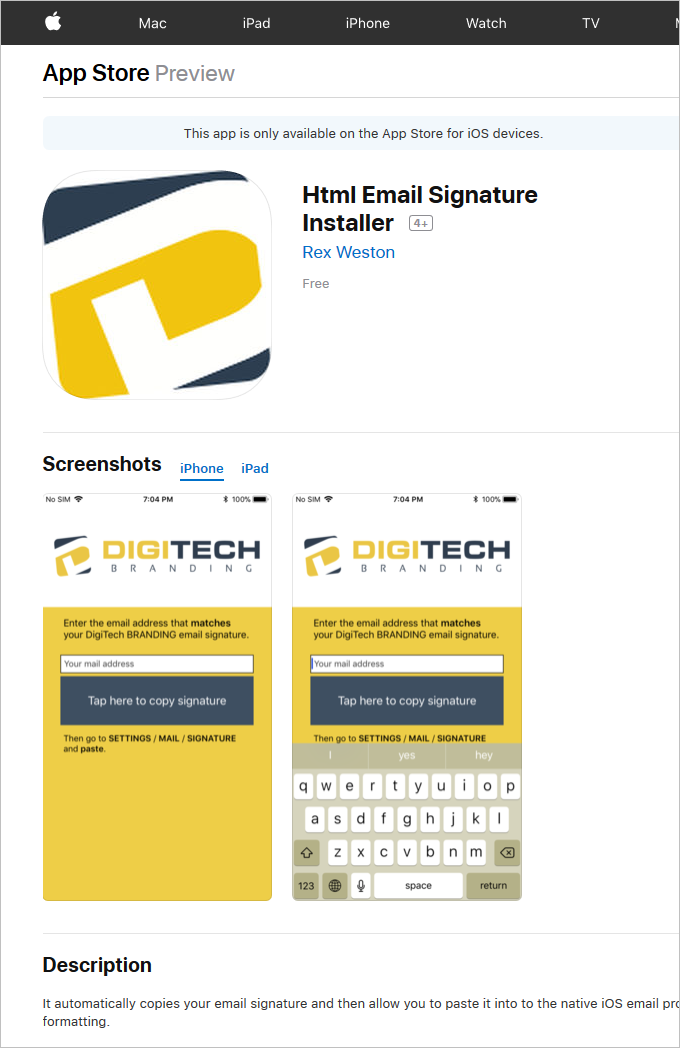 Implementation & Roll Out
Following a brief review and testing period by the US Foods IT department the project was cleared for roll-out.
The signature-creation URL was distributed internally to US Foods employees and after 6 months 550 employees had utilized the tool to supplement their desktop email signature with an iPhone signature with zero reports of problems or need for support at any level.
User Experience
Everything about the design of the program was focused on keeping the user experience super-easy.
Result
US Foods personnel and the DigiTechBRANDING team worked collaboratively over a period of a few weeks to complete and deploy a very well executed email signature program for iOS devices. DigiTechBRANDING has a customer that we're proud to support, and US Foods has the assurance of continued prompt attention to their program on an as-needed basis going forward.